About Whittier Alaska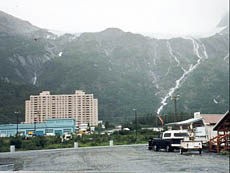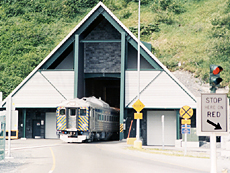 It's easy to get to Whittier from almost anywhere in the world, and a bit of adventure, too. From Anchorage, which is served by a number of major airlines, the tunnel portal to Whittier is less than an hour's drive.
Tunnel portal?
Yes, Whittier is served by road, but only when the tunnel is not being used by the Alaska Railroad. The innovative Anton Anderson Tunnel is the longest combined rail and highway tunnel in North America. It's also the longest highway tunnel on the continent at 2.5 miles.
Summer travelers can drive through the tunnel once per hour either direction from early in the morning until late in the evening. Winter travel is more restricted but still possible each day. The Alaska Department of Transportation provides a schedule for tunnel use on its website. There is a small fee to use the tunnel.
Once in Whittier, you'll find an agreeable small Alaska town right at the edge of Prince William Sound. You'll see the water almost immediately on exiting the tunnel.
Staying in Whittier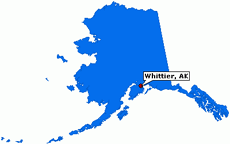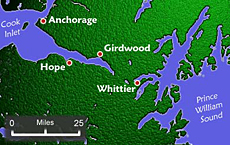 Whittier has a range of accommodations in town and nearby. The
Anchor Inn Hotel
is reasonably priced, and offers some kitchenette units.
June's Bed & Breakfast
is in the Begich Towers, and offers great views of the Portage Canal. Sound View
Getaway B&B Waterfront Condo Suites
is another bed and breakfast, with kitchen facilities.
The Inn at Whittier
is right on the water, and is uniquely constructed.
There are also a couple of possibilities for campers. One is the city campground, behind the Begich Towers. Some people camp at the head of Portage Canal.
There are a number of good places to eat out in Whittier, especially during the summer. You can choose from seafood, Chinese, west coast cuisine, and gourmet cooking. Whittier is small, but there is some good cooking here.
There are other amenities here, as well, including day cruises, kayak rentals, flightseeing, fishing charters, and more. Our community's chamber of commerce has more information and links.